Free Shipping – On all orders over £30
We offer free shipping to our UK customers when you spend £30 or more.
We're here to help. If you're looking for information on our service then we hope you'll find the answers below. If you don't (or you'd really rather talk to someone) then please don't hesitate to get in touch – we'd love to hear from you.
Index
Postage & Delivery
UK Delivery charges
Overseas delivery charges
How do I return an item?
Samples
Postage & Delivery
Here are a few details about our delivery service and process.
When do we dispatch your orders?
We'll send your order as soon as we can. If you place an order before noon on a working day then we should dispatch it on the same day.* If you place it after 12pm (or on a non-working day), it should be sent on the next working day.* (*Please be aware that during sales and busy periods, despatch can take longer.)
How do we send your orders?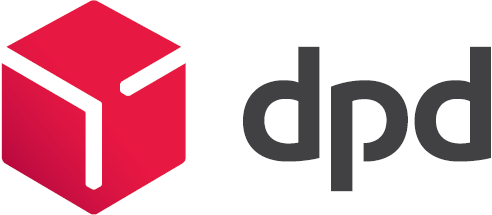 We send all orders via DPD couriers using their Predict service.
Orders can be delivered to home or business address of your choice, or you can arrange for your order to be delivered to one of a large selection of collection points.
We will normally send you a notification email when your order leaves our warehouse. The progress of courier deliveries in the UK can be tracked online and we will send you a tracking link in the confirmation email.
In most cases DPD will provide parcel recipients with a one hour delivery window, notified by SMS or email, so you don't have to wait in all day.
What's more, it enables receivers to watch the progress of their delivery on a real-time map, and (where supported) all the way down to a final 15 minute timeslot.
Our courier service requires that orders be signed for on delivery. As noted on the checkout page, please choose a delivery address where someone will be present to accept delivery and sign for it.
Our courier will try to complete delivery to you but if they find no-one in and you don't contact them to arrange re-delivery they may then return the order to us, so delaying its eventual delivery to you. Where possible we try to prevent this happening but the best way is to ensure someone will be present when the order is delivered.
All deliveries to collection points/shops must be picked up by you within seven days, or they will automatically be returned to us.
Collection instructions: when your parcel is delivered and ready for collection, DPD will send you a Pickup pass via email or text. You'll need to bring this DPD Pickup Pass and a photo ID (Driving license or passport) with you to collect your parcel.
You can show the pass on your phone or tablet, or you can print it out from the Print Pickup Pass link.
If you cannot show the pass, then please take two forms of ID with you, one must be a photo ID and the other a utility bill. On delivery to the store, parcels must be collected within 7 days, to avoid return to sender
For deliveries to the UK mainland (excluding the Scottish Highlands) the courier will normally deliver 2 business days after your order leaves our warehouse. Deliveries elsewhere will take a little longer.
* If your delivery is to the Scottish Highlands please select United Kingdom (Scottish Highlands) from the drop-down menu on the basket page and when entering addresses.
UK delivery charges
All orders will be sent by our using our courier´s DPD Predict service. Charges start at £5.
All orders over £55 will be delivered free of charge within the UK mainland (please note: the £55 spend is after all discounts have been applied and is exclusive of delivery)
Free Delivery Exclusions*
Regrettably, at the moment, we are unable to extend the free delivery to the following areas due to the high costs passed to us by our courier service:
Northern Ireland (postcode pre-fix BT)
Other Islands (including postcode prefixes: ZE (Shetland), KW15-17 (Orkney), HS (Outer Hebrides), KA27 (Isle of Arran), KA28 (Isle of Cumbrae), PH42-44 (Eigg, Rhum and Canna), PA60-78 (Isle´s of Jura, Colonsay, Iona, Mull. Tiree & Coll) , PA42-48 (Isle´s of Bute, Islay & Gigha), TR21 – 25 (Isles of Scilly), PO30 – PO41 (Isle of Wight)
If your delivery is to the Scottish Highlands please select United Kingdom (Scottish Highlands) from the drop-down menu on the basket page and when entering addresses. Your delivery charges are the same as that of the rest of the UK mainland.